Sheepadoodle Puppies For Sale
All of our gorgeous Standard and Mini Sheepadoodles come with our extensive 2 year health guarantee.
We produce F1 Sheepadoodles, F2 Sheepadoodles, F2b Sheepadoodles, and Mini Sheepadoodles. Learn more about the generations
here
.
History of the Sheepadoodle Breed
The Sheepadoodle dog breed was first developed as a military dog for the US Army in the 1960's. The combination of a Poodle's intelligence and an Old English Sheepdog's bravery was thought to make a high quality working dog. However due to the happy-go-lucky and loving nature of the Sheepadoodle, the breed was quickly retired from military use. But the good news is that this little experiment resulted in a fantastic family dog! Around the 1980's people started gaining appreciation of the hypoallergenic qualities of a Poodle coat. As a result, the Sheepadoodle started to increase in popularity during the early 2000's. Nowadays the Sheepadoodle breed has exploded in popularity due to its similarity to the Goldendoodle. Sheepadoodles tend to be larger than their other Doodle counterparts such as the Labradoodle and Goldendoodle.
The breed's popularity really took off in 2017 and Poodles 2 Doodles is proud to be one of America's premiere Sheepadoodle Breeders.
About our Sheepadoodle Puppies
As a designer dog breeder, we pride ourselves in raising Sheepadoodles the right way. We hand pick the parent dogs to make sure our puppies have superior genetics. And we back that up with a 2 year health guarantee! But genetics isn't the only thing that makes a great puppy. The early weeks of development are crucial for instilling trust and kindness in puppies. With plenty of attention and personal care, all of our Sheepadoodle puppies for sale stand out as lively and obedient.
Sheepadoodle Breed Information
No! Sheepadoodle puppies are hypoallergenic, meaning they don't shed and are far less likely to cause allergic reactions. However they do need to be brushed regularly to keep their coat soft and clean.
How big does a Sheepadoodle get?
Due to the huge range of sizes in Poodles, Sheeapdoodles can be anywhere from less than 20 pounds all the way up to 80 pounds!
Standard Sheepadoodle Size
Standard Sheepadoodles range from 45 to 80 pounds.  
Mini Sheepadoodles range from 20 to 40 pounds.
Micro Sheepadoodles range 20 pounds and under.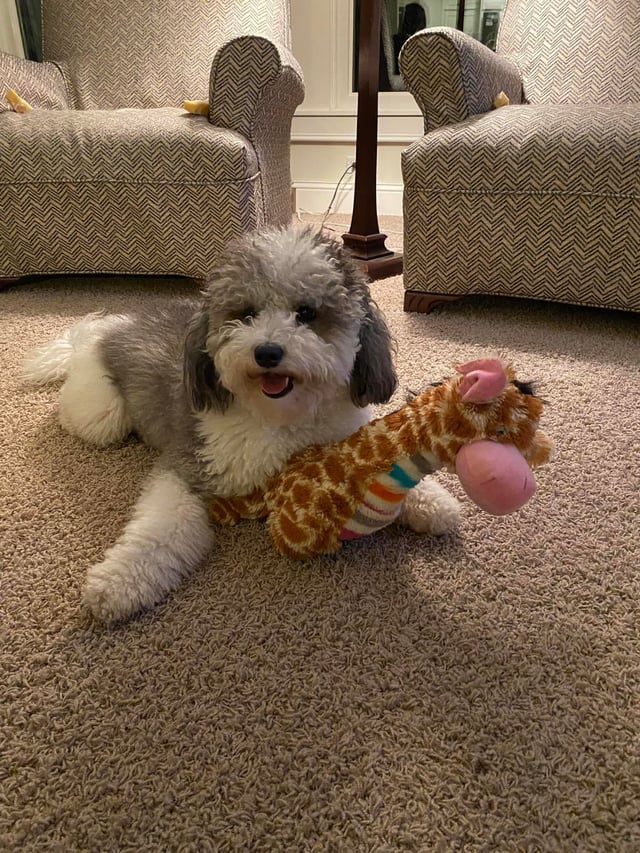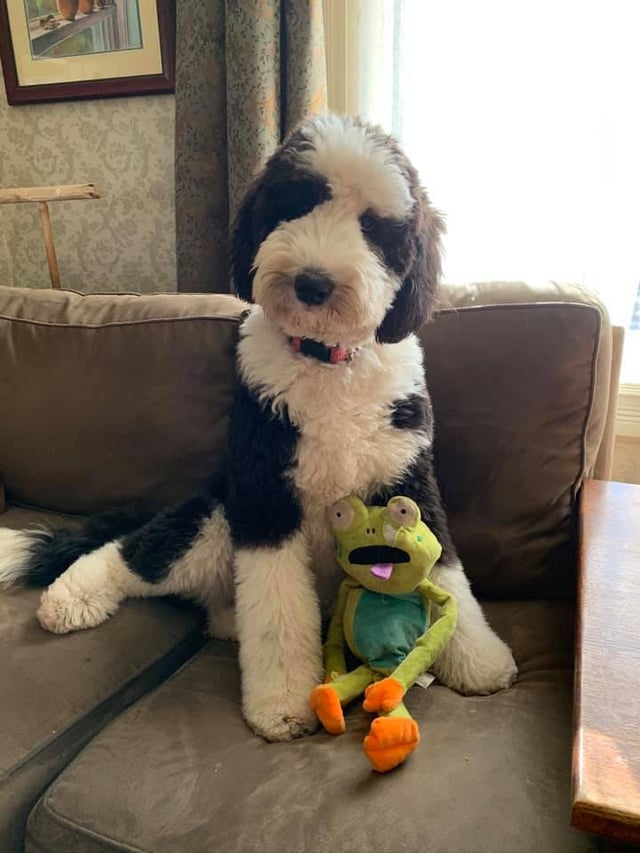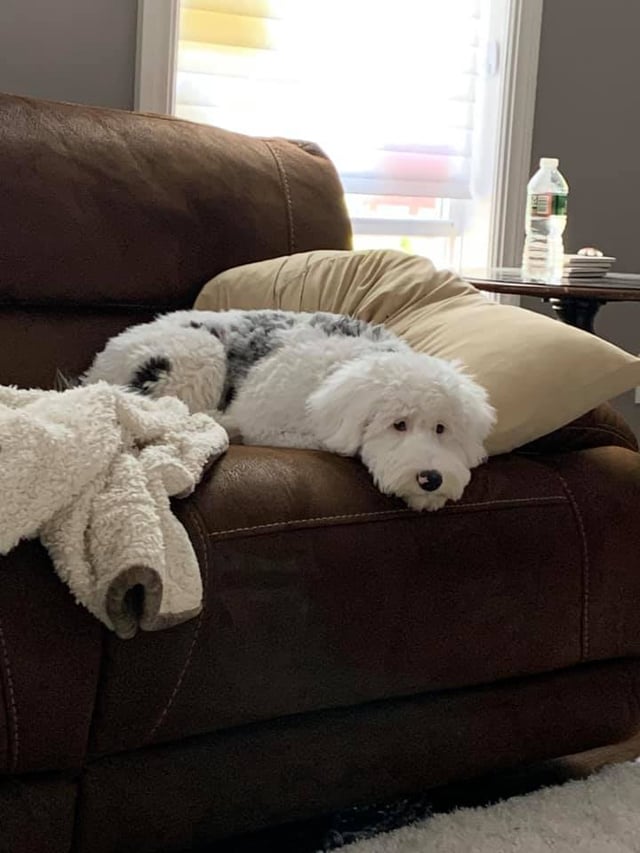 Frequently Asked Questions
What colors are Sheepadoodles?
Unlike Bernedoodles and Goldendoodles, Sheepadoodles don't have a lot of color variations. They are either:
Black and white
Parti (at least 50% white, with solid patches of any other color, usually black or grey)
Blue merle (a more mottled look with blue colorations in the fur and eyes)
Red and white (rare)
We don't typically produce red and white Sheepadoodles, so if you're holding your breathe for a puppy with red coloring, take a look at our Goldendoodle Puppies.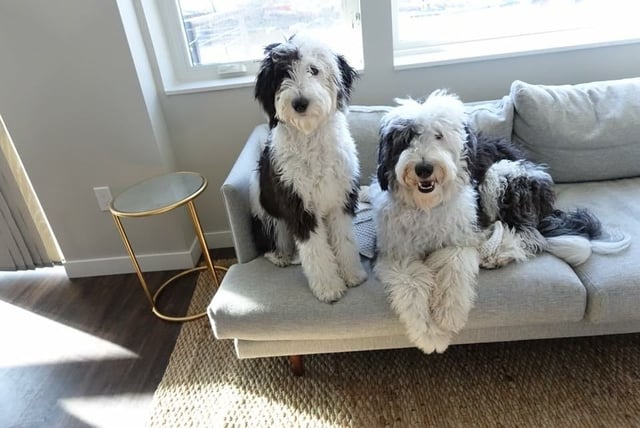 What do the different generations mean?
The different generations depict how much Poodle is in a Sheepadoodle puppies' genes. This is relevant for people with severe allergies, since the more Poodle, the more hypoallergenic.
F1 Sheepadoodle: Old English Sheepdog crossed with a Poodle
F1b Sheepadoodle: F1 Sheepadoodle  crossed with a Poodle
F1bb Sheepadoodle: F1b Sheepadoodle crossed with a Poodle
F2 Sheepadoodle: F1 Sheepadoodle crossed with an F1 Sheepadoodle
F2b Sheepadoodle: F1 Sheepadoodle crossed with an F1b Sheepadoodle
F3 Sheepadoodle: F1b Sheepadoodle crossed with an F1b Sheepadoodle

 
How much does a Sheepadoodle Cost?
Our Sheepadoodles range from between $2800 – $4000 depending on their coloration and size.
What does a Sheepadoodle look like?
Sheepadoodles have rounded or square faces along with a elongated snout.  They are solid and have a sturdy build.  The skull of a Sheepadoodle is dome shaped and a broad profile. 
With their iconic low hanging ears, and medium set eyes they are an unmistakable breed.  Coats range between curly and straight and do occasionally need trimming around the eyes.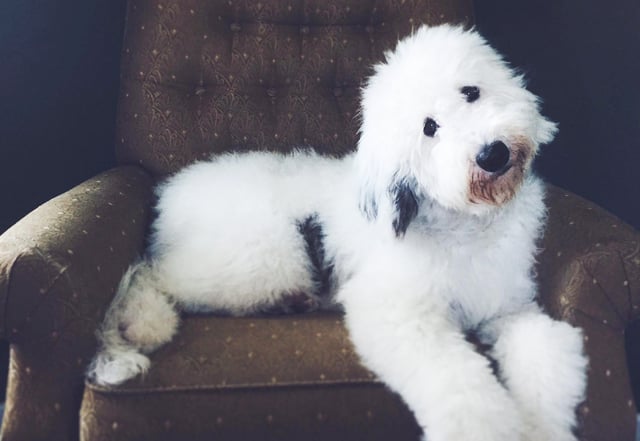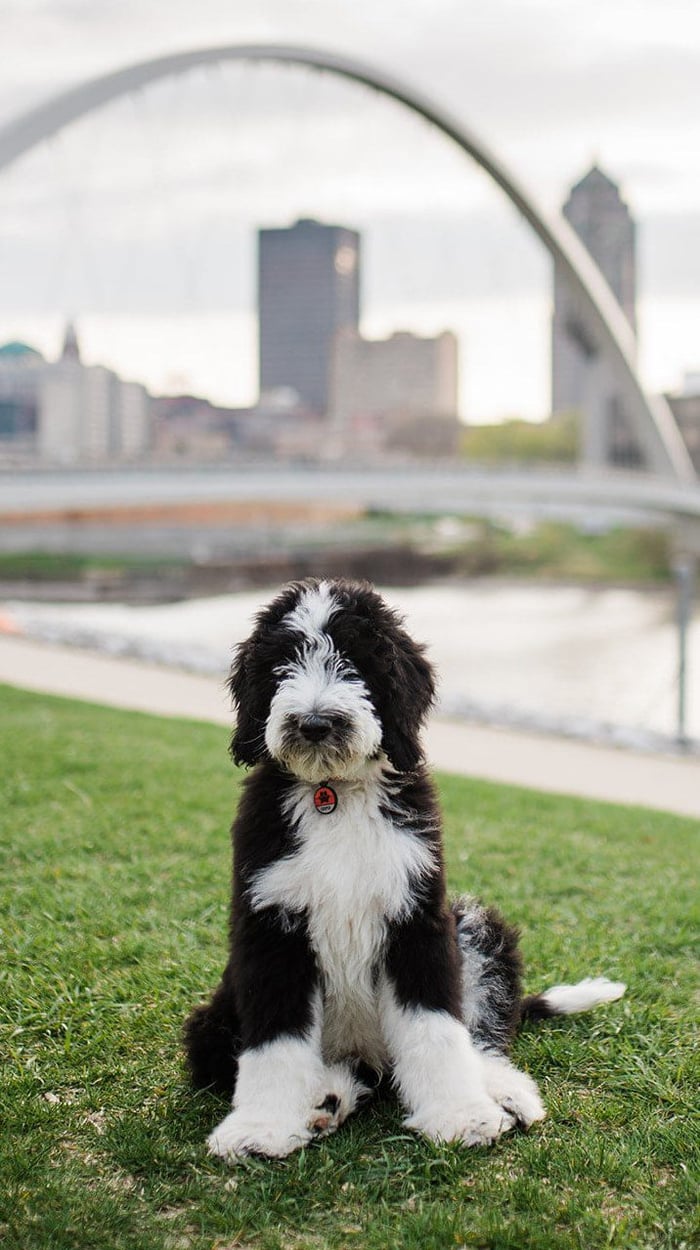 Verified Customer Reviews
Quincy from Harlee and Grimm 1/15/21
Overall process to obtain my puppy very easy with Poodles2doodles for my mini sheepdoodle. Delivery to California went well. Breeder has checked frequently on puppy and open to questions and concerns if needed. I would recommend this breeder if looking for sheepdoodle puppy.
Very pleased with my puppy.