Goldendoodle Puppies For Sale
We proudly offer standard and mini goldendoodle puppies for sale.  Our F1B Goldendoodles are great for families, especially those who have allergies.  The F1B breed of Goldendoodle puppies have beautiful coats with curly or wavy hair.  Best of all they shed less and are more hypoallergenic. 
We don't currently have any puppies available, check back soon!
Standard and Mini Goldendoodle Puppies
A Goldendoodle is a mix between a Golden Retriever and a Standard Poodle, making a dog that is non-shedding, laid back, and intelligent. Goldendoodle puppies are ideal for many types of homes because they are easy to train, great with kids, and easily adaptable. They are also very loyal and bond quickly to their family.
Golden Retrievers and Poodles are both very intelligent breeds making Goldendoodle puppies easy to train with consistency and patience. They love structure and once trained correctly, will be a life long best friend to the entire family.
Goldendoodles vary greatly in size and color. We raise Standard Goldendoodles that can weigh as much as 80 pounds as well as Mini Goldendoodles that can be as small as 15 pounds.
History of the Goldendoodle Breed
The Goldendoodle dog breed is a "designer dog" breed that started to become popular in the 1990s, shortly after the popularization of the Labradoodle in 1989. Funny enough, the first examples of Goldendoodles were breed by Monica Dickens – the great granddaughter of Charles Dickens – in 1969.
The Goldendoodle breed was originally pioneered to combine the intelligence and non-shedding coat of the Poodle with the family-friendly temperament of the Golden Retriever. This makes for a dog that is on average healthier than either a Poodle or a Golden Retriever alone. This also makes the Goldendoodle breed hypoallergenic, with many different coat types and colors. With proper genetic testing, we can accurately determine if a Goldendoodle puppy will have a wavy or curly coat. A curly coat is more hypoallergenic than a wavy coat, but requires more regular grooming. A dog being hypoallergenic doesn't guarantee that some people won't have allergic reactions, but it lowers the chance significantly.
Despite the Goldendoodles massive popularity, it isn't yet recognized by any official organizations such as the American Kennel Club.
No! Goldendoodle puppies are hypoallergenic, meaning they don't shed and are far less likely to cause allergic reactions. However they do need to be brushed regularly to keep their coat soft and clean.
How big do Goldendoodles get?
Due to the huge range of sizes in Poodles, Goldendoodles can weigh anywhere from less than 20 pounds all the way up to 100 pounds! We breed all sizes of Goldendoodles, from Standard Goldendoodles that weigh between 45 and 100 pounds, to Mini Goldendoodles (30- 45 lbs), and occasionally even Micro/Petite Goldendoodles (8- 30 lbs).
What is the price of your Goldendoodles?
The cost of our Goldendoodle puppies range from between $2000 – $3500 depending on their coloration and size. View the full pricing breakdown on our Goldendoodle puppy pricing page. All our puppies come with a 2 year health guarantee since we have complete confidence in our health testing regime we require for all our parent dogs before they have their first litter.
About Our Goldendoodle Breeding Program
How a puppy is raised in the first weeks of it's life is almost just as important to the puppy's personality as genetics!  My wonderful team and I do our absolute best to raise our Goldendoodle puppies to have amazing temperament, conformation, and most importantly, health. We DNA test all our adults for Degenerative Myelopathy (DM) and Von Willebrand's (VWB). Our adults are also Hip and Elbow certified by the Orthopedic Foundation for Animals (OFA). We believe a healthy Goldendoodle is important but we also know families are searching for a Goldendoodle puppy that is hypoallergenic, cute, fluffy, and affectionate. We go a step above to ensure this by DNA testing all our adults for the shedding gene to ensure our best chances at a very low to non-shedding Goldendoodle puppies.
Reviews from owners who've purchased a Goldendoodle puppy from us
F1 goldendoodle- best personality and non shedding!
We love our golden doodle Tenney. She is the perfect temperament for our family. Plays when we want to play, lays down and rests (or snores😄) when we don't. She is the perfect blend of active for our 3 kids(13, 9& 4). From day 1 she has slept through the night and was a breeze to kennel and potty train. Literally the best dog we have ever had. Poodles to Doodles takes care of everything from microchipping to spay/neuter so there was nothing for us to worry about when we took her home other than enjoying her. I think we will add another in the future!
Other Frequently Asked Questions
What colors are Goldendoodles?
Goldendoodles come in many different colors! Including:
Black
Copper
White
Cream
Gray
Apricot
Red
Abstract
Parti
Merle
The most common Goldendoodle puppies are completely solid in color, generally golden with a cream, apricot, or reddish hue.
For years we have produced the deep red color many people want in a Goldendoodle puppy. As desires of our families change over the years, so does our program. Over the last couple of years we have worked hard to produce red and white abstract Goldendoodles, red and white parti Goldendoodles, and now the blue merle Goldendoodle puppies. The solid colored Goldendoodle is still very popular but the parti, abstract and merle colors are now generally more desirable.
If you're looking for a deep red doodle, check out our Irish Doodles!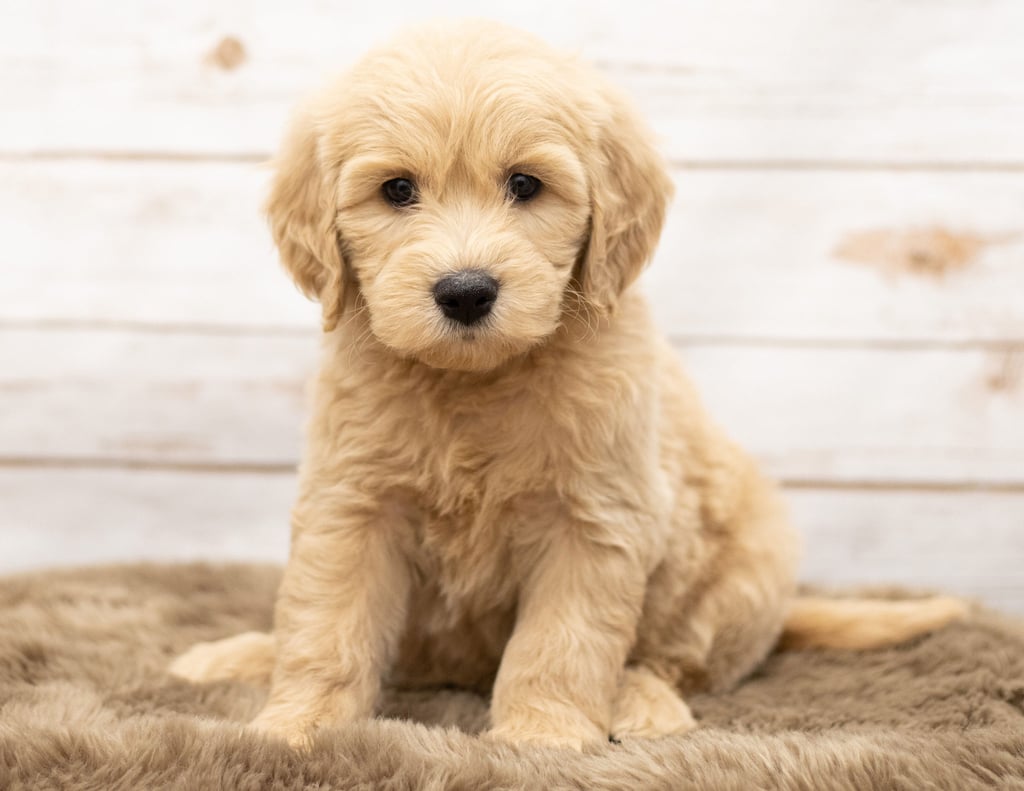 What do the different generations mean?
The different generations depict how much Poodle is in a Goldendoodle puppies' genes. This is relevant for people with severe allergies, since the more Poodle, the more hypoallergenic.
F1 Goldendoodle: Golden Retriever crossed with a Poodle
F1b Goldendoodle: F1 Goldendoodle crossed with a Poodle
F1bb Goldendoodle: F1b Goldendoodle crossed with a Poodle
F2 Goldendoodle: F1 Goldendoodle crossed with an F1 Goldendoodle
F2b Goldendoodle: F1 Goldendoodle crossed with an F1b Goldendoodle
F3 Goldendoodle: F1b Goldendoodle crossed with an F1b Goldendoodle