We are no longer breeding for Irish Doodles as of Fall 2022. Please visit our Available Puppies page for info on our other breeds. 
Thanks!
Irish Doodle Puppies For Sale
We don't currently have any puppies available, check back soon!
What is an Irish Dooodle?
The Irish Doodle is a cross between the Irish Setter and the Poodle and is a relatively new breed. The Irish Setter makes for a breed that is capable of hunting and retrieving and the poodle ensures the breed is intelligent, sensitive, and has a fondness for people. What a mix!
History of the Irish Doodle Dog Breed
The Irish Doodle is a hybrid between the Irish Setter and a Poodle. Their origin is largely unknown, but the breed does have recognition from many dog breeding organizations. Generally when adding an Irish Doodle to your family you've got the choice of 2 sizes. There are standard and mini Irish Doodles. Minis weight about 30-40 pounds while standard Irish Doodles weight between 45-65 pounds.
About Our Irish Doodle Puppies
As a hybrid dog, we ensure that our parent dogs embody the best aspects of each breed to make sure each Irish Doodle puppy has the intelligence of the Poodle and the happy go lucky personality of the Irish Setter.
We are working to bring a deep red lasting color in our doodles and found that in the Irish Doodle fits the bill perfectly, along with being a very healthy family pet!
We pride ourselves in raising Irish Doodle puppies the right way. We hand pick the parent dogs making sure our puppies have superior genetics. But genetics isn't the only thing that determines a puppy's personality. The early weeks of development are crucial for instilling trust and kindness in puppies. With plenty of attention and personal care all of our puppies for sale stand out as lively and obedient.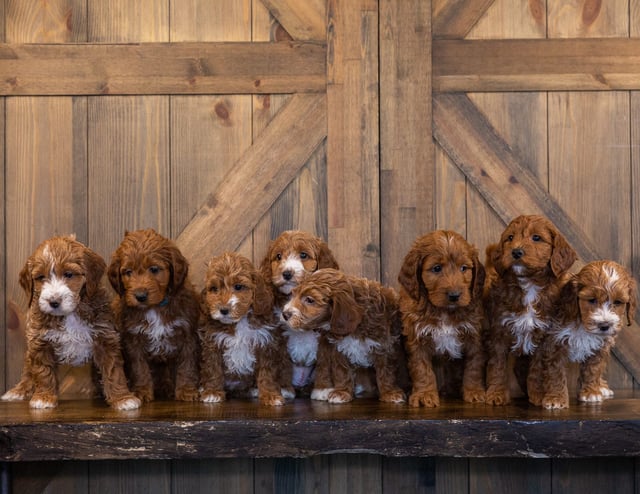 The Colors and Sizes of Irish Doodles​
Colors – Always red (with white spots, sometimes!)
Unlike Bernedoodles and Goldendoodles, Irish Doodles don't have a lot of color variations. They are usually just red! But this red is different than the golden-brownish red of the Goldendoodle. This is a much deeper red that doesn't fade at all with age.
Sizes:
The variety of sizes of the Irish Doodle is similar to that of Goldendoodles.
Standard Irish Doodles: Typically between 45 and 65 pounds.
Mini Irish Doodles: Typically between 30 and 40 pounds.
We can't guarantee any sizes, but we do try our best to estimate the size of the dogs once they are fully grown.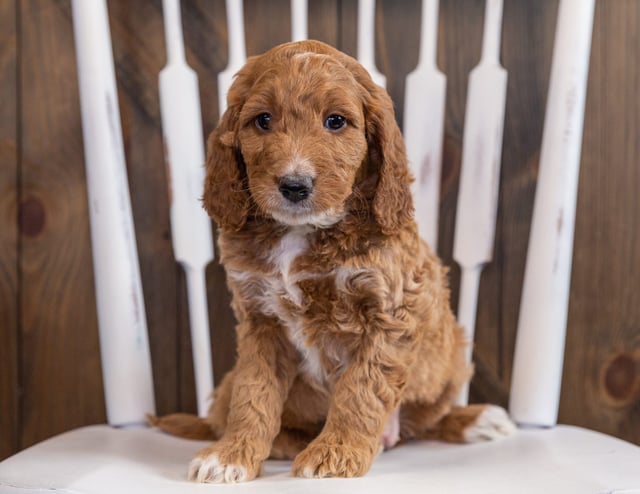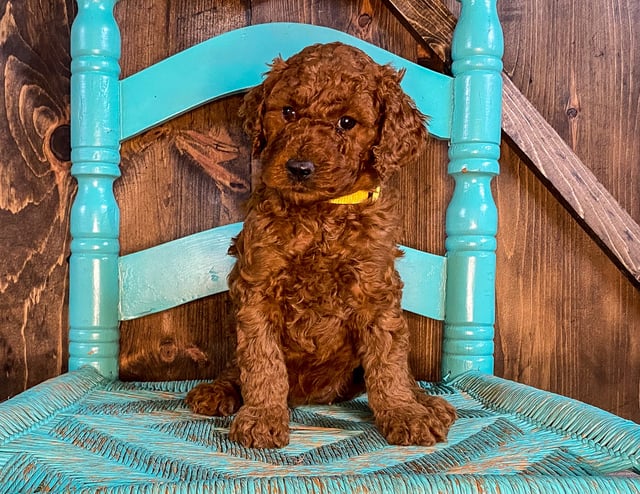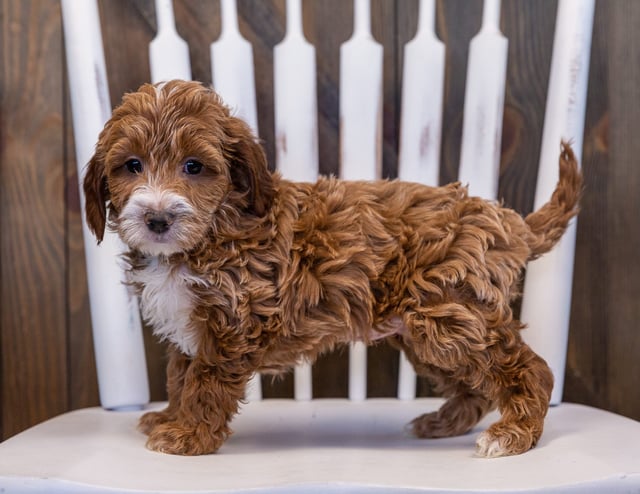 Irish Doodle Generations Explained
F1 Irish Doodle: Irish Setter  X Poodle
F1b Irish Doodle: F1 Irish Doodle  X Poodle
F1bb Irish Doodle: F1b Irish Doodle  X Poodle
F2 Irish Doodle: F1 Irish Doodle  X F1 Irish Doodle
F2b Irish Doodle: F1 Irish Doodle  X F1b Irish Doodle
F3 Irish Doodle: F1b Irish Doodle  X F1b Irish Doodle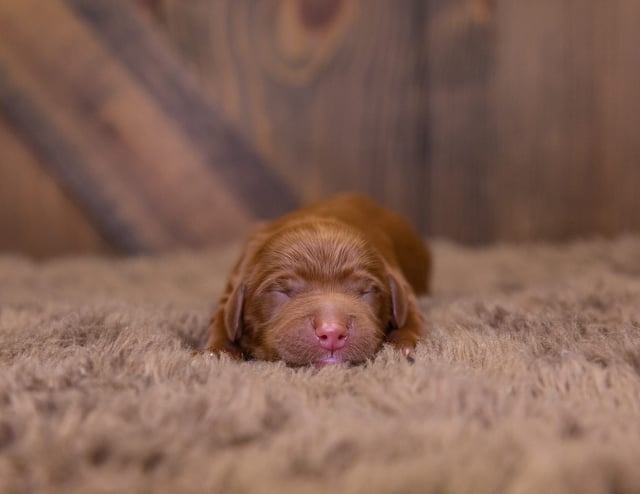 Reviews from owners who've purchased an Irish Doodle puppy from us
Our Mini Irish Doodle is Awesome!!
We brought our Poppi home in early November 2019. She is a very cute, highly energetic puppy. She is interested in everyone and everything. She is smart and ready to please and easy to train. However, know that if you get one of these energetic puppies, make sure you have the time and ability to exercise your pup a lot!! A tired dog is a great dog and this puppy is hard to tire. In the long run I think this is a benefit. An energetic puppy is up for anything. Make sure you socialize your pup as much as possible especially in the first 4-6 months. Expose them to as many people and environments as possible. We are looking forward to many years with our sweet Irish doodle. One more thing…she gets attention and turns heads wherever we go with her because she is super cute and teddy-bearish. She is like a little muppet. FYI: At 6.5 months our Poppi weighs 16 lbs.
Fun Loving Puppy
We picked up our Irish Doodle, Finley, 7 months ago. She has been quite the character. Her coloring has turned out beautiful!!! She is quite intelligent, and absolutely loves to play fetch with toys and tennis balls. We were expecting the energetic puppy and we were not disappointed. The biggest surprise is how athletic she is. She has a great ability to jump and catch toys and loves to play a little tug of war now and then. She is excellent and well behaved on walks making them enjoyable for all of us. She has been kennel trained from the beginning which has made it very easy to use the kennel when we have to leave her sometimes during the day.